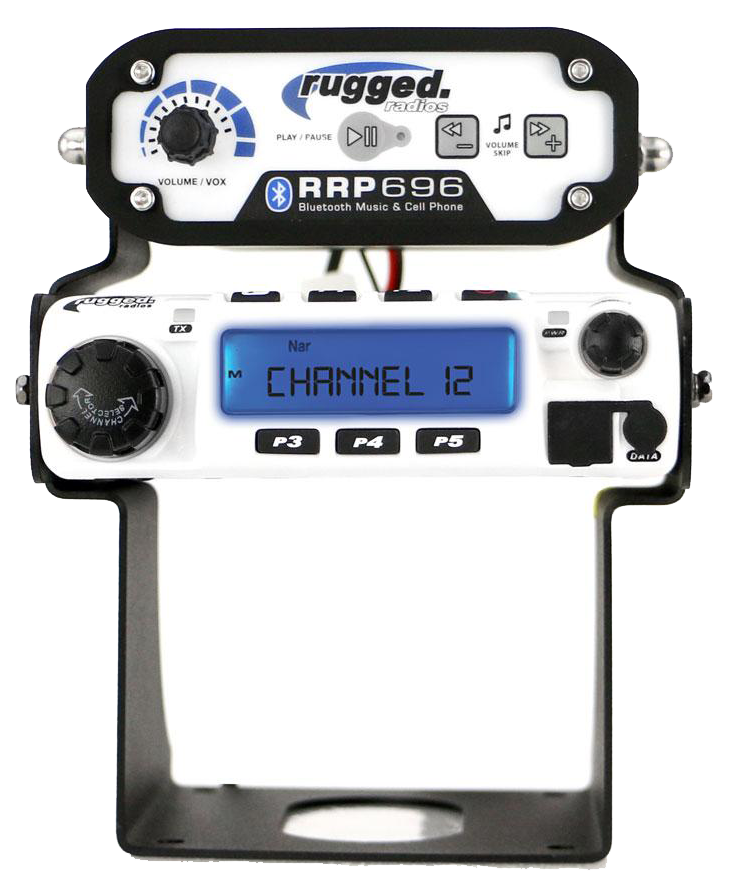 We have done business with Greg and Lance at Rugged Radios for years, these guys are great and have always taken care of us. They supply all of our radios, handheld and hardwired for our repair vehicles that you see out at KOH, the Rubicon and what ever race we can make it to. Rugged Radios has always been a great company to work with, and their products withstand a lot of abuse. They supply intercom systems, mobile radios, hand held radios, headsets, helmet kits just to name a few.
Rugged Radios corporate office located in Arroyo Grande, is one of the most well known sources for racing and recreational 2-way communication radios. Rugged Radio makes it easy for you and your passengers in your UTV need to communicate with each other while wearing helmets, or your race team needs solid communications for the pit crew or chasing each other down, Rugged Radios is the solution.
Greg Cottrell, Founder of Rugged Radios has dominated the world of two-way communications for off road enthusiasts and professional race teams. With a diverse range of products, Rugged Radios outfits drivers, crew, passengers, chase teams, race officials, and more with clear communications to improve safety and, well, communication!
It all starts with in-car intercom systems that connect the driver and passengers with headsets or, your pit crew. If you're wearing helmets, helmet speaker kits. From there, adding a Car-2-Car kit allows you to talk from vehicle to vehicle. Depending upon the model, Car-2-Car Kits feature powerful 2-way radios to provide a communication range of 12-30 miles.
That my friends, is the heart and soul of Rugged Radios.
When RuffStuff asked about the growth of the Rugged Radios brand among consumers, Greg Cottrell commented "We've worked hard over the past few years, listening to consumers and developing communication products that perform incredibly well. All of that means nothing if we can't back it up with quality service."
Since the inception of the off road intercom, Greg Cottrell has built an amazing and diverse business that services all audiences and professions
Their product line is used by top race teams and drivers you may already know. In the UTV scene, drivers like Branden Sims, Mitch Guthrie Jr., as well as Derek and Jason Murray to name a few all use Rugged Radios. In the off road racing scene, you'll find other drivers sporting Rugged Radios such as RJ Anderson, Ricky Johnson, Luke Johnson, Jeremy McGrath, Cam Reimers and more. There's no doubt Rugged doing something right.
"It's not just the equipment we offer," Greg stated. "We back it up with top level service and support. We have a dedicated in-house tech support crew and we make every effort to be at every sanctioning body race event we support. We're there for the fans and the race teams. We want to be sure everyone's communications are working flawlessly."
To back that up, Rugged Radios has probably logged more miles in travel this year than your odometer can count. Rugged Radios has traveled all over the southwest and covered major events in Kentucky, Florida, Oregon, and Wisconsin to name a few.
With that attention, Rugged Radios always strives to be on the cutting edge, providing new products that are evolutionary and revolutionary.
Made from true carbon fiber, the AlphaBass has been blowing away the industry. It's the first communication headset that integrates with your off road intercom and delivers outstanding audio performance.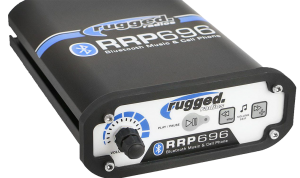 "Next is our RM-60," Greg said. "It's a 60-watt radio that delivers almost 20% more power and distance than previously available models at a more affordable price.
Last, Greg discussed the new RRP660PLUS Intercom. The RRP660 PLUS is the latest offering from Rugged Radios, providing Bluetooth music streaming from your cell phone as well as the ability to connect and dis-connect from calls with the touch of a button on the intercom. You'll never have to touch your cell phone in your pocket.
What's hard for people to understand is that importance of the intercom. It's the device everything connects to; headsets, helmet kits, and two-way radio – which can be added any time and is completely optional if you want to talk to other vehicles in your group.
Rugged Radio is doing something right and UTV owners, off road race teams, and powersports enthusiasts are waking up to the power of communications. With a single storefront in California and a massive website with over 1200 items, Rugged strives to do it right. To make it easy for consumers, the most popular offerings are available as complete kits with one-click ordering. Digging deeper, you can find just about anything else you need to repair, replace, or enhance any existing communications you might have.
Whether your passion is street, dirt, or snow, Rugged Radios is clearly the choice for communications. Product options and customer support lead the brand that Rugged has built, but nothing compares to the experience of actually having quality communications to make your ride more fun, improve safety, and add a soundtrack to your adventures. Be sure to check out Rugged Radios online or give them a call. There's a reason Rugged Radios is the authority in communications. #ruggedradio #ruffstuff #ruffstuffspecialties

Tags: Partnerships